In today's fast-paced world, maintaining a healthy and radiant complexion can be a challenge. Stress, pollution, and daily wear and tear can take a toll on our skin, leaving it dull, congested, and lacking that youthful glow. Thankfully, there's a revolutionary and rejuvenating treatment that has become a staple at medspas worldwide – the Hydrafacial. We are thrilled to now be offering Hydrafacial treatments at glo MD!
Why is Hydrafacial the go-to solution for healthy, radiant skin?
DEEP CLEANSE AND EXFOLIATION
The magic is in the wand that works like a vacuum to deep cleanse the pores. The Hydrafacial's patented Vortex Fusion technology utilizes a gentle suction to remove impurities, dead skin cells, and excess oil from the pores, unclogging them and revealing a fresh, revitalized complexion underneath.
CUSTOMIZABLE
One of the standout features of the Hydrafacial is its ability to cater to individual skin concerns. Whether you're battling acne, fine lines, hyperpigmentation, or simply seeking a deep cleanse, this treatment can be tailored to meet your unique needs.
HYDRATION AND NOURISHMENT
Hydrafacial's Vortex Fusion system ensures that your skin receives a potent blend of antioxidants, peptides, and hyaluronic acid. These nourishing serums penetrate deeply into the skin, replenishing moisture levels and providing essential nutrients. The hydration boost not only restores radiance but also helps to plump the skin, reducing the appearance of fine lines and wrinkles.
IMMEDIATE AND LONG LASTING RESULTS
One of the most impressive aspects of the Hydrafacial is its ability to deliver noticeable results in just one session. The treatment instantly revitalizes the skin, leaving it visibly smoother, brighter, and more radiant. It's an ideal choice before special events or as a regular part of your skincare routine. With a series of treatments, the cumulative effect of Hydrafacial ensures that your skin continues to improve over time, addressing underlying concerns and enhancing its overall health.
NON-INVASIVE AND RELAXING EXPERIENCE
Hydrafacial offers a relaxing and enjoyable experience and is non-invasive, requiring no downtime. The entire process is comfortable, soothing, and painless, making it suitable for all ages.
What does Hydrafacial treat?
Congestion
Mild acne or acne-prone skin
Fine lines and wrinkles
Loss of elasticity and firmness
Dehydrated skin
Hyperpigmentation
Large pores
What are the benefits of Hydrafacial?
Fewer breakouts
Purifies pores
Increases skin cell turnover
Youthful, plump, hydrated skin
Softens lines and wrinkles
Improves skin firmness and volume
Protects skin against damage
Optimal skin hydration
Minimizes the look of dark spots
What are glo MD's Hydrafacial menu options?
SIGNATURE GLO HYDRAFACIAL
The Signature Glo Hydrafacial is perfect for everyone. First, gentle suction combined with a cleansing solution and spiral design tip loosens and removes dirt, oil and dead skin. Next, a gentle peel solution provides rejuvenation with no downtime followed by a special extraction solution and more gentle suction to remove pore impurities. Finally, the skin will be saturated with an intensely hydration serum that provides the most radiant glo your skin has known.
DELUXE GLO HYDRAFACIAL
This hydrafacial includes all the steps of our Signature Glo Hydrafacial with the additional of a concentrated booster serum to target and treat specific concerns by infusing active igredients deep into the skin. We'll also add Celluma LED light therapy which softens facial wrinkles and calms acne and inflammation.
PLATINUM GLO HYDRAFACIAL – BEST VALUE!
This treatment includes all the steps of our Deluxe Glo Hydrafacial, but includes your choice of dermaplane to smooth the skin and remove peach fuzz or lymphatic drainage therapy to detox and sculpt the skin.
THE HYDRAFACIAL BACK TREATMENT
Deeply cleanse and rejuvenate the skin with the same four steps as our Signature Glo Hydrafacial, but for your back!
HYDRAFACIAL PERK
Perk Lip visibly smooths and exfoliate your lips for visibly hydrated, lightly plumped lips. Perk Eye rejuvenates and hydrates your eye area for a more bright and firm appearance.
Experience the transformative power of the Hydrafacial, and unlock your skin's true potential at glo MD today!
---
If you are interested in learning more about the treatments and products available at glo MD, please schedule a complimentary consultation with one of our experienced medical providers.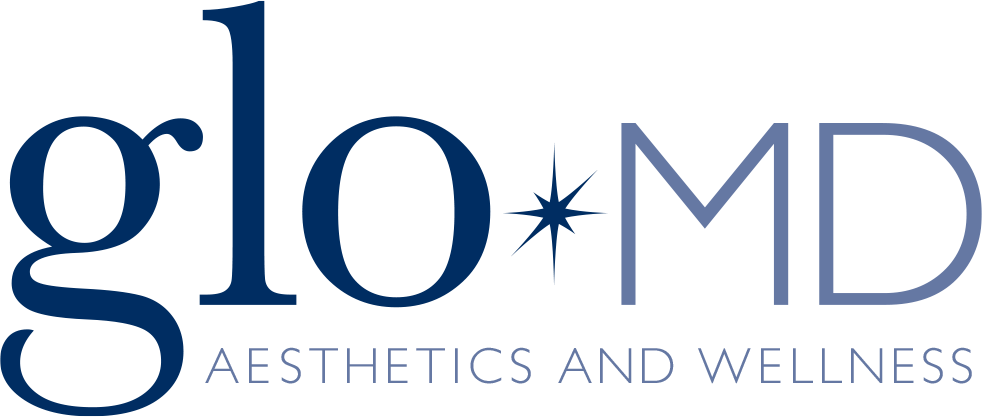 ---